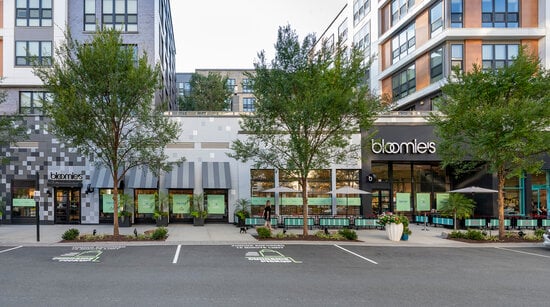 Buy Online, Pickup At The Store
Pickup is available inside the main entrance at The Front Desk, or Curbside

Phone: 702-962-3000
LEARN MORE
Store Hours
Day of the Week
Hours
Monday

10:00 AM

-

8:00 PM

Tuesday

10:00 AM

-

8:00 PM

Wednesday

10:00 AM

-

8:00 PM

Thursday

10:00 AM

-

8:00 PM

Friday

10:00 AM

-

9:00 PM

Saturday

10:00 AM

-

9:00 PM

Sunday

10:00 AM

-

8:00 PM
Curbside Pickup
Day of the Week
Hours
Monday

10:00 AM

-

7:00 PM

Tuesday

10:00 AM

-

7:00 PM

Wednesday

10:00 AM

-

7:00 PM

Thursday

10:00 AM

-

7:00 PM

Friday

10:00 AM

-

8:00 PM

Saturday

10:00 AM

-

8:00 PM

Sunday

10:00 AM

-

6:00 PM
Day of the Week
Hours
Monday

10:00 AM

-

8:00 PM

Tuesday

10:00 AM

-

8:00 PM

Wednesday

10:00 AM

-

8:00 PM

Thursday

10:00 AM

-

8:00 PM

Friday

10:00 AM

-

9:00 PM

Saturday

10:00 AM

-

9:00 PM

Sunday

10:00 AM

-

8:00 PM
Hours
Store Hours
Day of the Week
Hours
Monday

10:00 AM

-

8:00 PM

Tuesday

10:00 AM

-

8:00 PM

Wednesday

10:00 AM

-

8:00 PM

Thursday

10:00 AM

-

8:00 PM

Friday

10:00 AM

-

9:00 PM

Saturday

10:00 AM

-

9:00 PM

Sunday

10:00 AM

-

8:00 PM
Open Today
Curbside Pickup
Day of the Week
Hours
Monday

10:00 AM

-

7:00 PM

Tuesday

10:00 AM

-

7:00 PM

Wednesday

10:00 AM

-

7:00 PM

Thursday

10:00 AM

-

7:00 PM

Friday

10:00 AM

-

8:00 PM

Saturday

10:00 AM

-

8:00 PM

Sunday

10:00 AM

-

6:00 PM
Open Today

Buy Online, Pickup At The Store
Pickup is available inside the main entrance at The Front Desk, or Curbside

Phone: 702-962-3000
LEARN MORE
Featured Services
Gift Wrap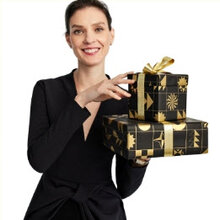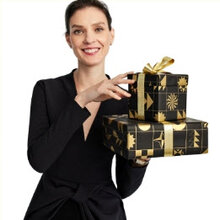 Gift Wrap
The total package: Choose from an exquisite range of papers and ribbons for beautifully wrapped presents that build excitement before they're even opened.
Style & Fit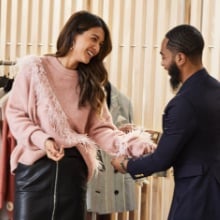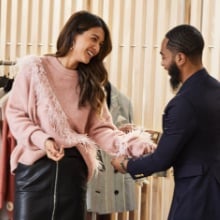 Stylists
Our team can shop the store with you to curate racks tailored to your needs, from special-event looks to everyday styles. Catch them in store (or virtually!) anytime or make an appointment in advance.
Beauty Stylists
Our Beauty Stylists are experts on all brands, so you don't have to be. Learn how to recreate the latest looks, get glam for a special event or discover the perfect products for your complexion
Visitor Services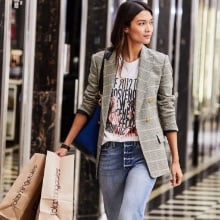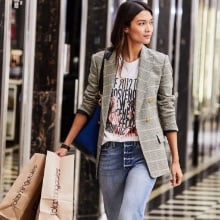 Returns Dropbox
Have an online return, but in a rush? Initiate your return online, then look for the green mailbox located near the door at The Front Desk. Bag your item, drop it in, and be on your way in three easy steps.
Visitors Savings Pass
We offer a 10% savings pass to all out-of-town guests. Some exclusions apply. See store associates for restrictions and details.

Pick up your pass at The Front Desk.
Bloomie's Exclusives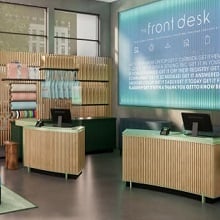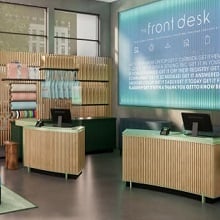 The Front Desk
Get it with a smile. Get it styled head to toe. Get it monogrammed. Get it quick. Get it returned. Get it answered. Get it easily. Get it all at the Bloomie's front desk! We're here to help. Stop by any time for any thing and get it done!
Window-shop 59th Street
Access incredible handbags from our NYC flagship with this interactive screen. Take a peek at 59th Street's amazing handbag brands, then a stylist will connect you with an in-store associate on the designer floor, who will ring up and ship your dream bag to your door.
Restaurants
Restaurants
Colada Shop
Grab your favorite morning brew. Pop by for an afternoon empanada break. Or join us at happy hour for a much-needed frozen cocktail with your crew. The D.C.-based Colada Shop will now be dishing out its signature drinks, finely roasted coffee, and colorful Cuban bites from AM to PM, as our in-house cafe for wildly tasty shopping fuel.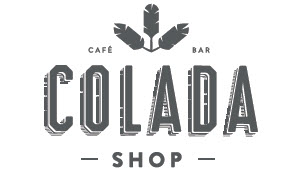 About Bloomie's Mosaic
Bloomie's by Bloomingdale's is a highly curated, ever-evolving store concept filled with incredible labels, interactive experiences, and exceptional service. Mixing the top designers you already love with emerging labels you need to know, Bloomie's combines fashion and beauty in unexpected ways. Not only that, but with weekly drops of the latest looks and a rotating roster of unique finds, Bloomie's delivers obsession-worthy pieces for truly inspired living.